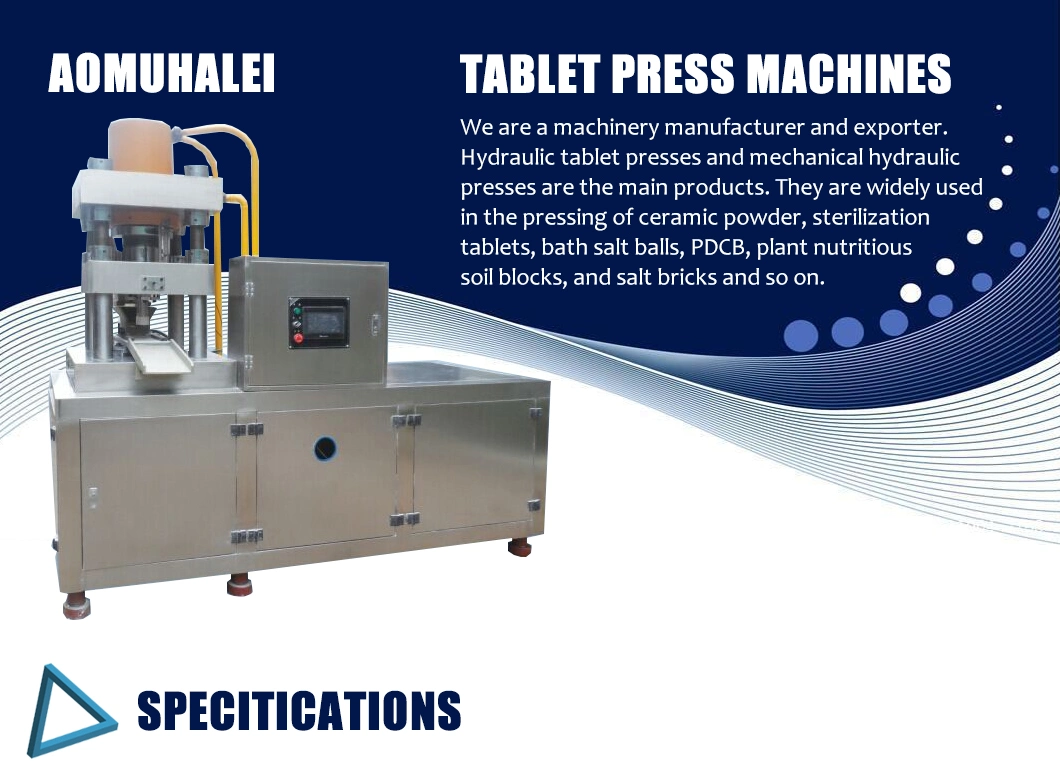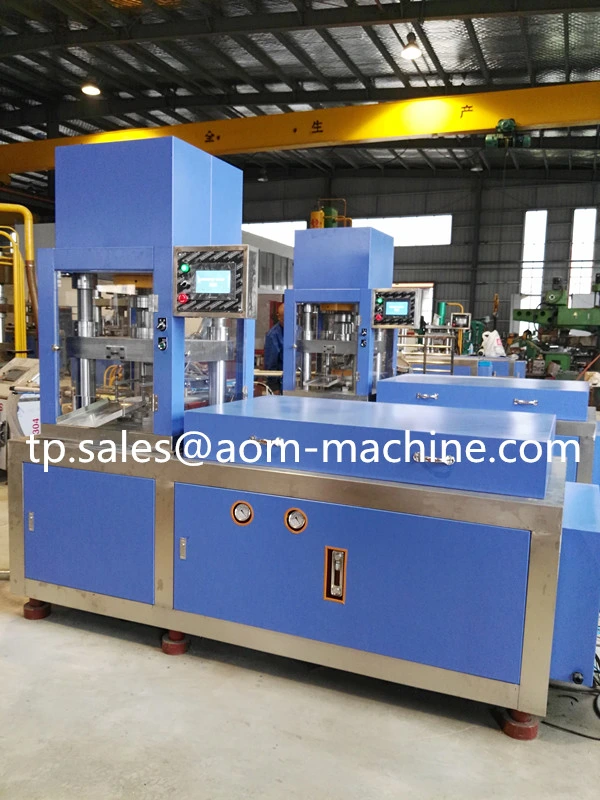 Main models:
We are the developer and maker for KSTY series four-pillar full automatic hydraulic press machines and CHTP series single stroke tablet press machine. Our KSTY series hydraulic press machines, Including KSTY-45/60/100/200/250/300/400/500/600/800/1000/1200.
We choose suitable model to people according to following:
(1) tablet/block size (2) capacity people want per hour.

Machine introduction:
Our KSTY series automatic hydraulic press machine are widely used for pressing any powder and granulate into block/tablet. It is a kind large hydraulic tablet press of four-pillar structure, and it can achieve the press of Multi-cavity molds, pressure-holding function, which actively increase the production capacity.
They have been used in following field.

Food: Candy pieces, pieces of coffee, chocolate, flavored pieces, chicken pieces, glucose blocks;
Agriculture: Feed block, fertilizer tablets, animal food, plant ground block;
Electronic Battery: Thermistor, IC components, Carboniferous brush films, toner fast;
Health care products: Calcium, propolis tablets, effervescent tablets, bath salts tablets, animal licking salt blocks;
Chemical: Disinfection tablets, insect repellent tablets, mothballs, cleaning agents, fragrances, catalysts, metallurgy powder, glass powder, ceramic powder products, art powder, grinding wheel block, magnetic materials.

KSTY series automatic hydraulic tablet press's hydraulic system is in SSAN brand from Taiwan, electronic control system uses PLC and HMI(Human Machine Interaction).

Details introduction:
(1) Machine weight: In a way, it shows the quality of machine if good enough. Such hydraulic press machines quality is decided by its whole structure + thick plate's size + pressure system + control system, not its nice appearance. Machine in real quality

E. G: In same model 200T machine, machine with more heavier weight is better than ones with less weight. In same 200T machine, ones with more heavier weight don't need any reinforcement measures in the ground.
It is the thicker cast iron plates and bigger cylinders(up+down)which let good machine heavier.
Ones in less weight has thin plates and small cylinders (may only have one cylinder), which will shake easily in production, so need the reinforcement measures in the ground, but it not enough for machine. Machine shakes easily, not stable, even has reinforcement measure, not enough, its component parts start to be damaged in shake process until broken, shorter life and much dangerous.

(2)The electric and motor we use are in good brand, e. G MORON, DELIXI, SIMENS. We will give you a list about it in sales contract; Also accept buyers' checking before shipment. We can say no suppliers in china who can equip such good configuration for machines in china. Such parts in brand can be bought around the world, reliable quality and convenient after-sales service, also guarantee the machine running and people' safety.

(3)The hydraulic oil path of our machines, was redesigned in early last year, less turnings hydraulic oil path has which increases the machine speed. Also power saving (save 10-20 kWh/day) and high efficiency.

(4)We added related insurance program into our machine last year. More Safety and harmony. Machine will stop when all machine actions not in right place or wrong operation of workers. Protect workers and parts of machine.

(5)All programs of machines are input in PLC. People set machine through PLC, in replace of traditional way that use Push-button in electric cabinet which needs to be replaced wholly into new one and add high cost for buyers.

(6)Machine structure: Our machine in same model with other suppliers, machine size and weight of us is much bigger and heavier, the supporting pillars and metal plates are more thicker, not need any reinforcement in ground, which guarantee the machine quality and life, more reliable.
| | | | | |
| --- | --- | --- | --- | --- |
| Model | KSTY-200 | KSTY-300 | KSTY-500 | KSTY-600 |
| Max top cylinder pressure | 200T | 300T | 500T | 600T |
| Max bottom cylinder pressure | 100T | 150T | 250T | 300T |
| Max length of upper punch | 200mm | 300mm | 400mm | 400mm |
| Max depth of fill | 200mm | 250mm | 300mm | 300mm |
| Max diameter of down punch | 200mm | 300mm | 400mm | 400mm |
| Capacity(times/minute) | 4-6 | 4-6 | 3-5 | 3-5 |
| Motor | 15kw | 15kw | 20kw | 30kw |
| Machine weight | 5T | 6T | 15T | 16T |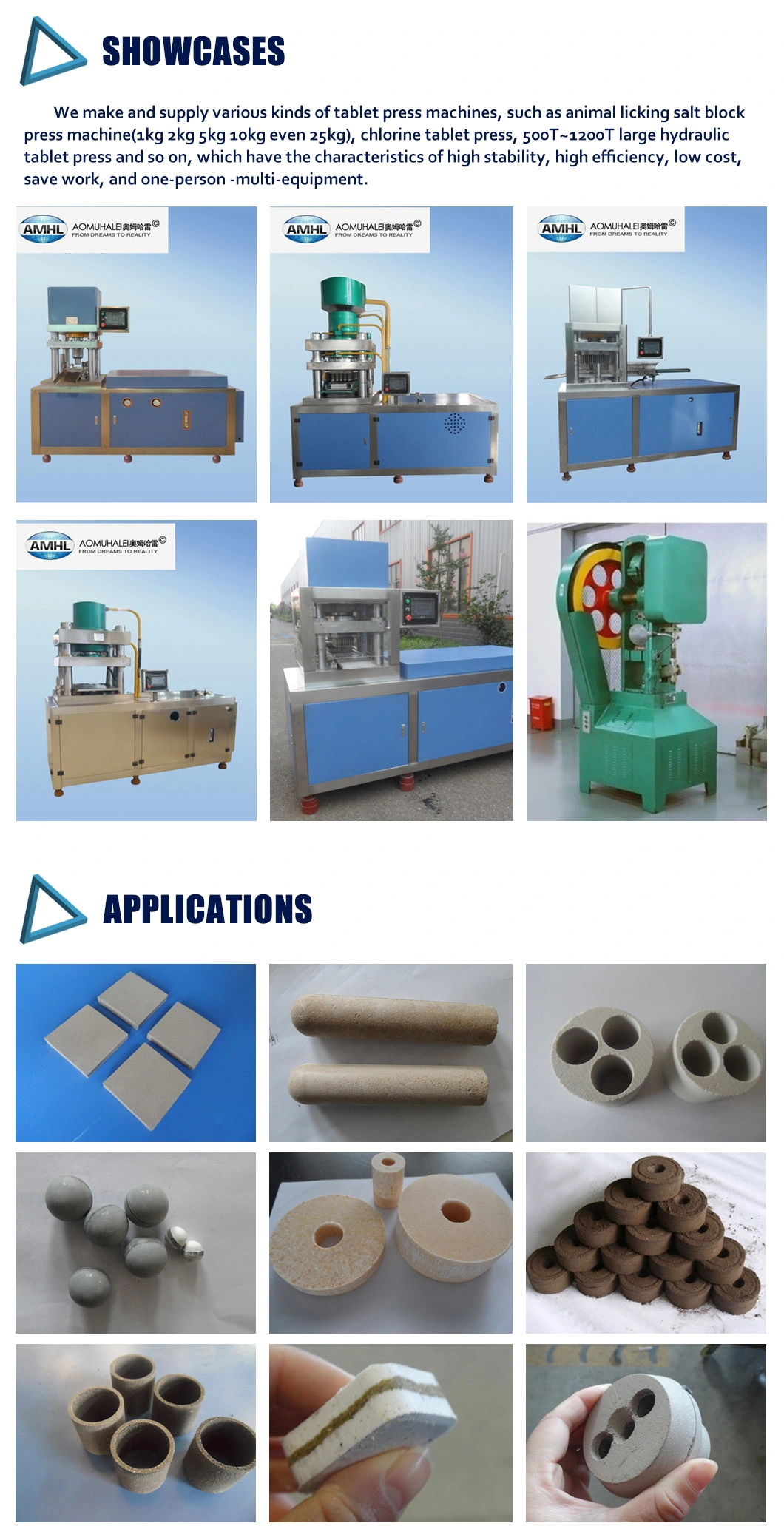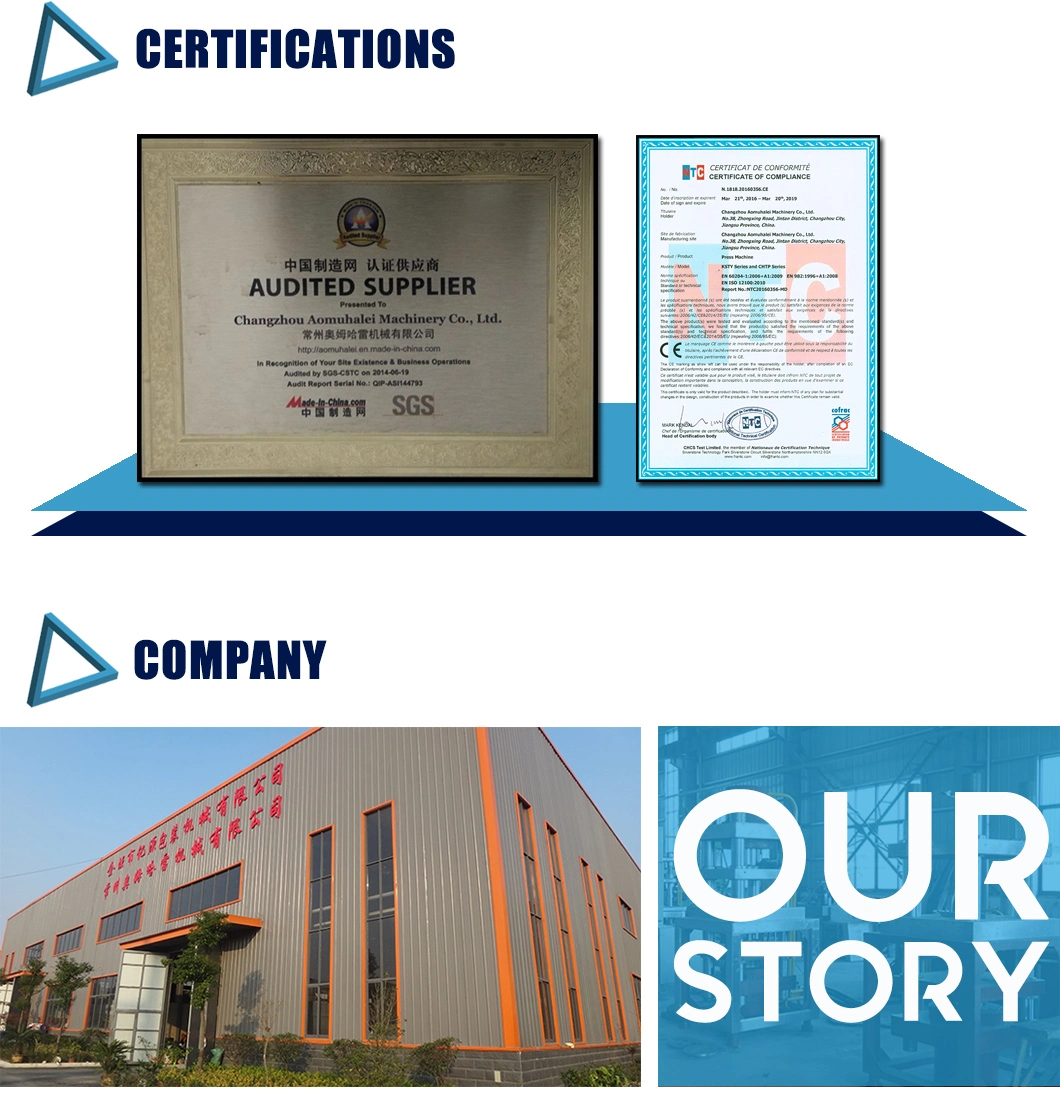 We are the machine maker with more than 20 years experience in China. Located in Changzhou, only 1h hour by G train to us from Shanghai. Also you can arrive us by plane, we have Changzhou Bengniu airport. Please feel free to contact us.We make and supply various kinds of tablet press machines, such as animal licking salt block press machine(1kg 2kg 5kg 10kg even 25kg), chlorine tablet press, 500T~1200T large hydraulic tablet press and so on, which have the characteristics of high stability, high efficiency, low cost, save work, and one-person -multi-equipment. Members of our Leadership are good at machine technology than sales. So we supply the service of customized machine. In usual, most of them are not in clean offices, but working in our workshops, which received much admire especially from foreign clients, not only machine quality and perfect after sales service system.

"Quality is as important as Integrity" is the principle of our Aomuhalei Machinery Co., Ltd. All our members do the job following it.

After more than 20 years' Efforts, we bring in advanced technology of tablet press and filling machine both from domestic and foreign countries, and have done R&D of a new generation of automatic tablet presses and automatic filling machines which are of various types, appealing out look, complete functions and wide range of applications.