HD sewer camera inspection supplier CCTV inspection robot for sewer inspection
(Model: X5-HS)
Wuhan Easy-Sight Technology Co., Ltd, found in Nov 2010, in Wuhan, Hubei province, China, is a leading producer of pipe cleaning, inspection and rehabilitation equipment. In July 2015, Easy-Sight successfully became the first listed company on the New Third Board in the industry in China with a stock code of 833122. As a team with over 300 employees, Easy Sight is dedicated to providing a whole series of sewer industry products and systems to meet customers' different requirements.
Our main products include pipe periscope (Quickview), CCTV inspection robots, pipe sonar system, sonar-CCTV system, push rod camera, video jetting nozzle, UV curing rehabilitation system, 3D manhole scanner, GIS data management system and so on.
The company adheres to the implementation of ISO's quality management system and continuously improves the quality of employees and products. Easy-Sight, as an intelligent pipeline solution supplier, has got approval of ISO9001, ISO14001, OHSA18001 and other management system certifications, such as CCTV inspection robots and pipe periscope have obtained FCC certification, CE certification.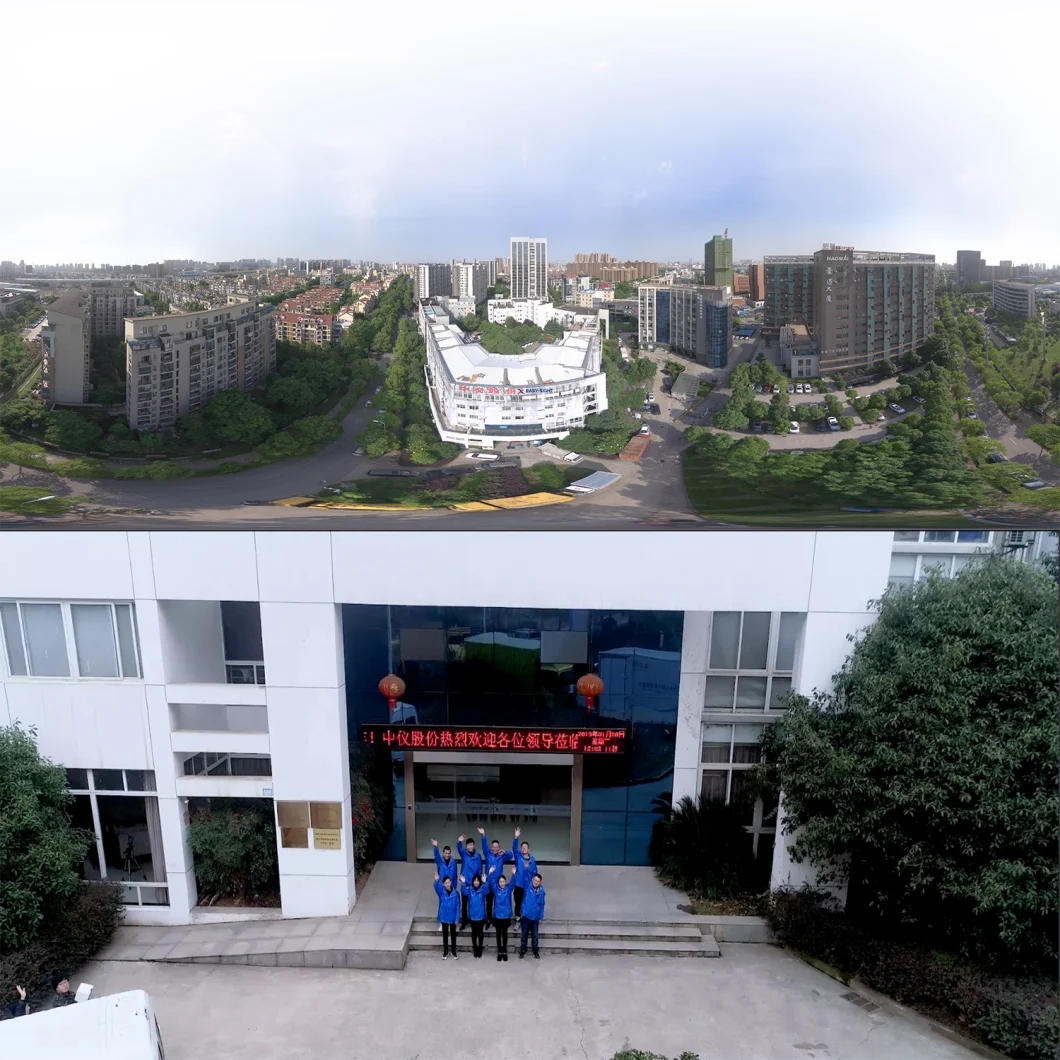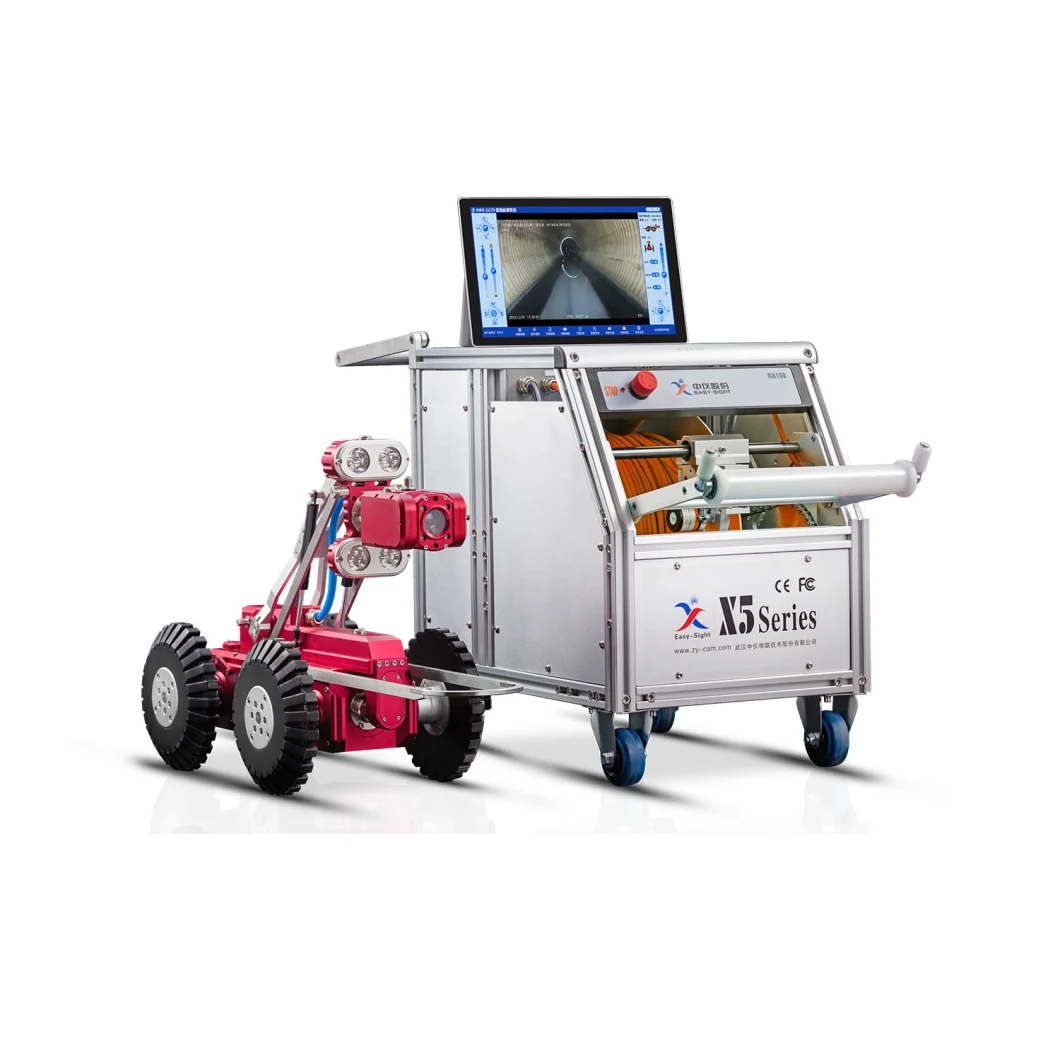 X5-HS pipeline CCTV Inspection robot is Easy Sight' the fourth generation product designed on the basis of industrial personal computer (IPC) system, using a laptop instead of the traditional controller.

X5-HS mainly consists of crawler, HD camera, cable reel and main control.

The crawler can be equipped with both our HD axial camera and HD rotary camera to response the operation orders of the main controller after connecting the cable reel with the main controller, such as crawler's going forward, back, direction turning, stop and speed adjustment, the electrical lift up and down, lighting adjustment, camera rotation, zoom and focusing, etc. During the inspection, the main controller can real-time display and record images from the camera and state information of the crawler, input the remark information and show the info on the screen.
| | |
| --- | --- |
| Main control | Standard supply Microsoft surface tablet, 8G+128G, touch screen, with keyboard, built-acquisition software. |
| Options | Customer can use their own laptop, no specific requirements for the configuration |
| Connection | Main control wifi or Internet cable connection with the system |
| Software control | moving forward, back, direction turn, speed control, camera rotation, zoom and focusing adjusting, lighting control, electrical lift up and down |
| Status display | real-time display date and time, travel distance, project info, pipe diameter, cavity pressure value, moving speed, etc |
| Text input | can input characters like project info, inspector, and other info you may need.The info can be displayed in multi language, like Chinese, English, French, Japanese, Korean and so on |
| Clock indicates | the defect can be clock located and displayed |
| Warning function | rolling angle overrun warning,effectively prevent rollover; or extremely low or high air pressure warning |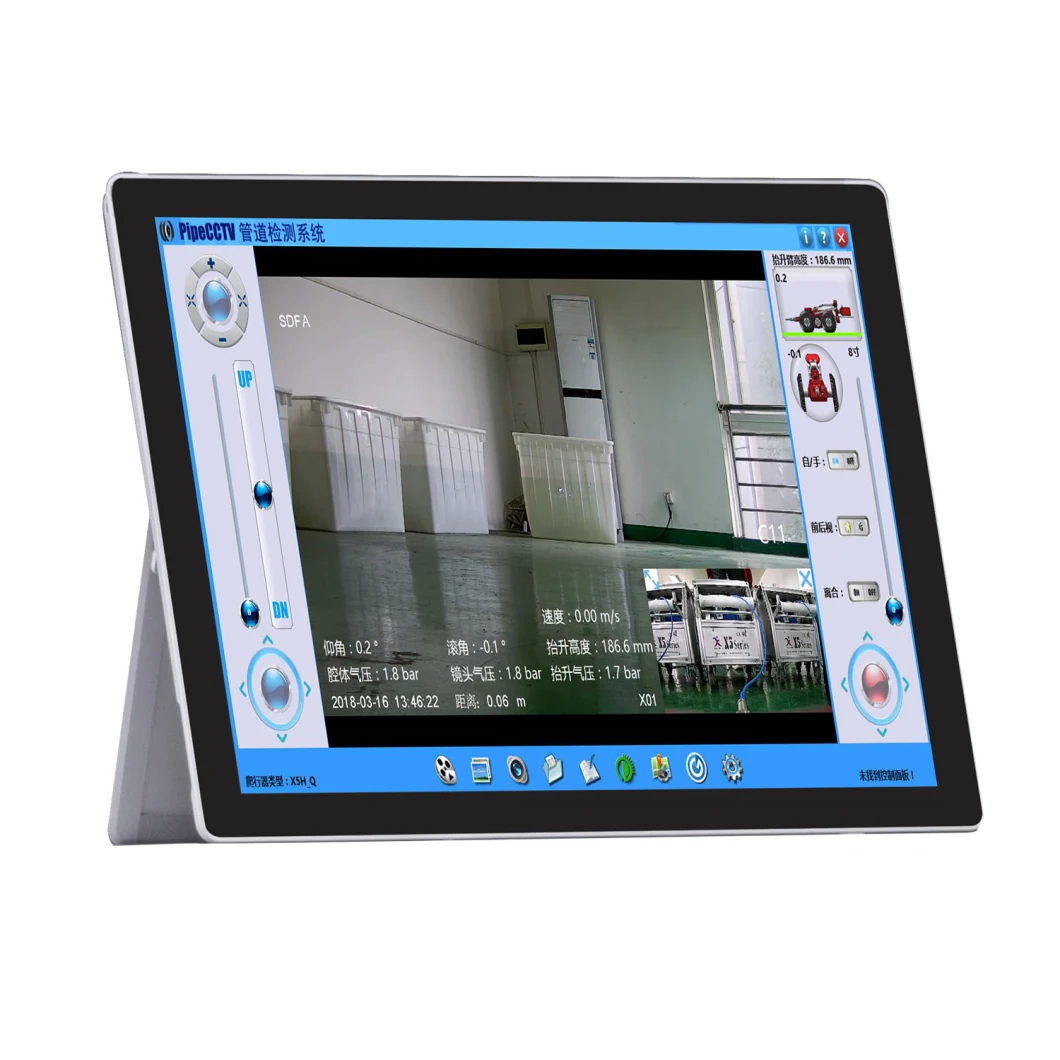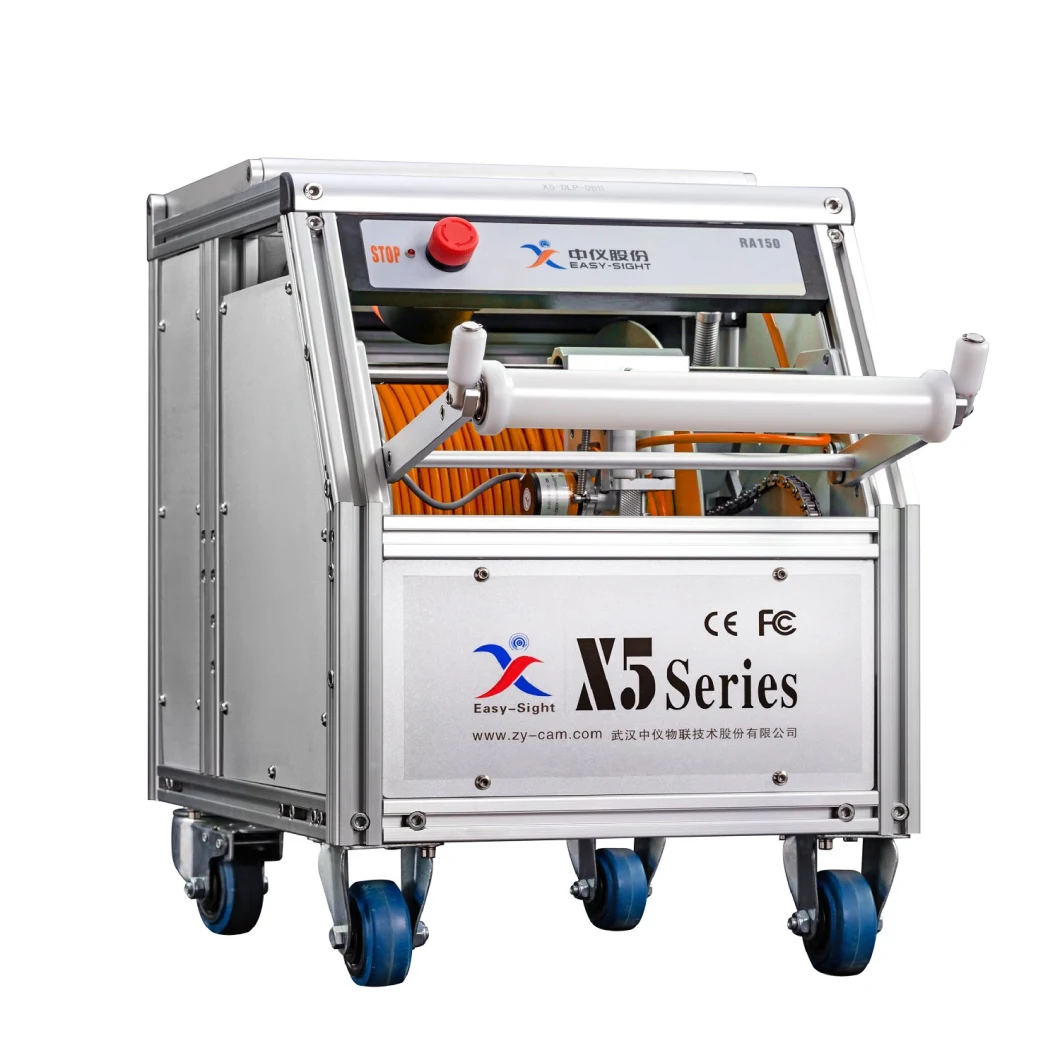 | | |
| --- | --- |
| Protection class | IP63, dust proof, water splash proof |
| Cable | Standard cable length 150m, longer can be customized, in yellow color |
| Cable parameters | 4-core cable,each core cable diameter 2mm , drawing anti-Kevlar 300 kg, imported polyurethane sheath,waterproof, wear proof, acid proof, corrosion proof |
| Cable collection | Automatic cable take-out and retrieve with electromagnetic clutch |
| | With stop switch in case of emergency |
| Connection | Wifi antenna on the top of cable reel, connect with wifi to control |
| Wheels | Four steerable wheels, can move the cable reel freely |
| Cable length counting | counting accuracy is 1mm with high precision meter counter |
| Diamension | 570mm*395mm*475mm |
| | |
| --- | --- |
| Protection class | IP68, used in 10 meters water depth, air tightness protection,built-in pressure sensor, pressure indicator |
| Working temperature | -10ºC~50ºC |
| Suitable pipe diameter | 300mm ~ 1000mm ( when camera len in center of pipeline) |
| Material | brass, stainless steel, aluminum alloy |
| Lift | Removable electric lift, the height difference up tp 235mm |
| Driven | Double 90W DC motor,6 wheels drive, maximum travel speed up to 32m / min |
| Climbing | depend on different pipe situation, the maximum gradeability about 45 ° |
| Circuit protection | locked motor, over-current, overpressure protection of motor |
| Lighting | Forward 12x10W bright condenser LED lights; back 2x10W highlight LED; All the light intensity continuously adjustable brightness |
| Rear-view camera | resolution 1280*720 (100W pixels) |
| Wheels | Four sets wheels provided: 4,6,8, 10 inch rubber wheels |
| Structure | U-shaped protective frame preventing the camera crash |
| Weight | 18.5Kg with electrical lift |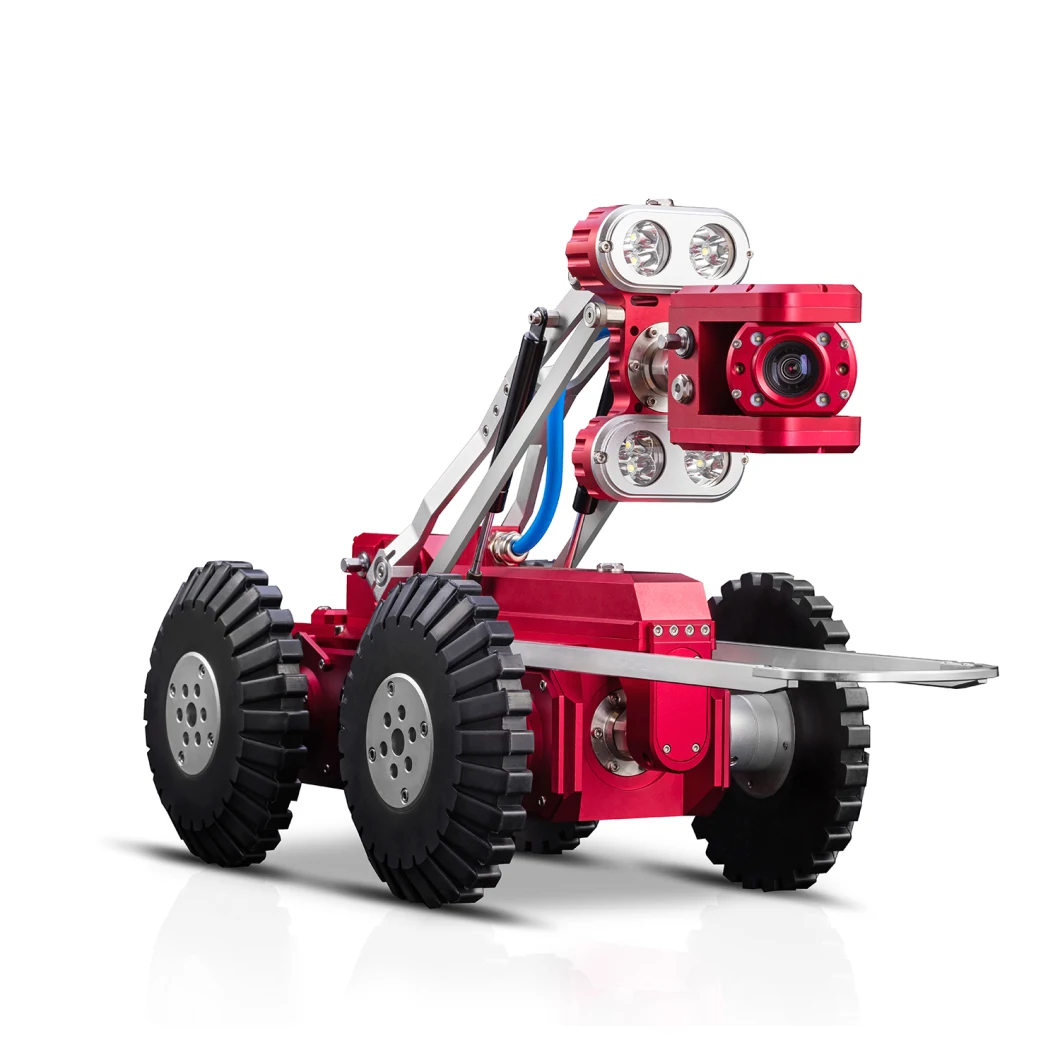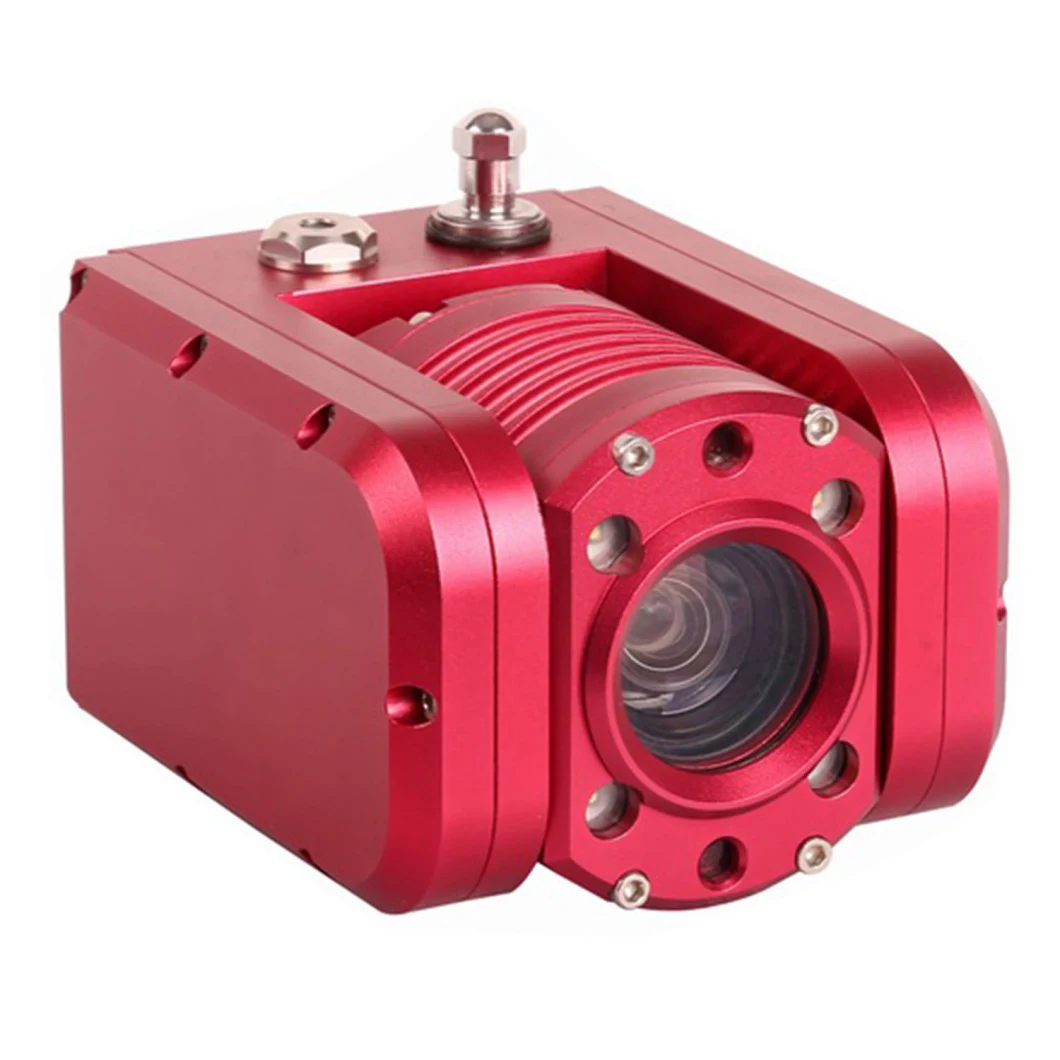 | | |
| --- | --- |
| Protection | IP68, used in 10 meters water depth, air tightness protection,built-in pressure sensor, pressure indicator |
| Working temperature | -10ºC~50ºC |
| Camera rotation | Electric 360° radial limitless rotation, 2* 135 upward and downward rotation, one click for reset |
| Lighting source | 4 LED lights |
| Imaging system | color 1/3 ", 2 million pixels (1920 * 1080) CMOS, viewing angle 6.7 ° - 68 °, sensitivity 0.1Lux |
| Focus | Automatic focusing, adjustable manually |
| Zoom | 10x optical zoom, 12x digital zoom |
| Laser | Laser measurement module for crack measurement |
| Dimension | 155mm * 95*90mm |
| Weight | 1.5Kg |
| | |
| --- | --- |
| Connection | Wire connection with main controller |
| Function | camera rotation and reset, electric lift up and down, lighting adjust, speed control, direction adjust |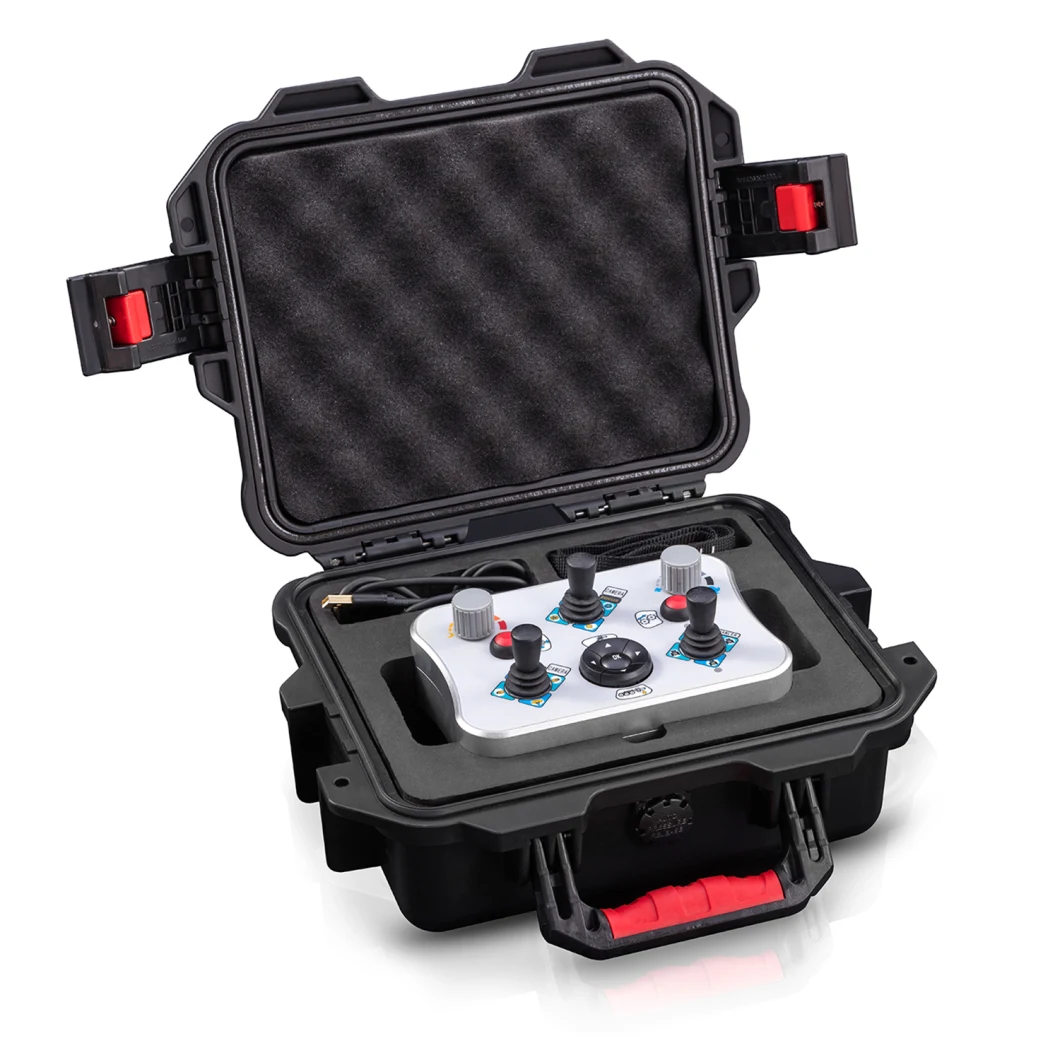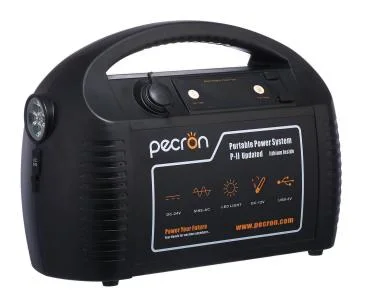 | | |
| --- | --- |
| Charing time | 5-6 hours |
| Output voltage | 220V/50HZ AC pure-sine wave or AC 110V/60HZ DC 12V10A 5V2A 20-29.4V20A |
| Continuous output power | nominal power 1000W |
| Peak output power | 2000W |
| Battery capacity | 1077Wh( 25.9V 41.6Ah) |
| Battery type | lithium battery (70%@1000Cycle) |
| Working environment | 0ºC~45ºC(Charge) -20ºC~60ºC(Discharge) |
| Working time | for CCTV inspection robot: about 8 hours |
| Dimension | L345×W172×H246mm |
| Weight | 9.5Kg |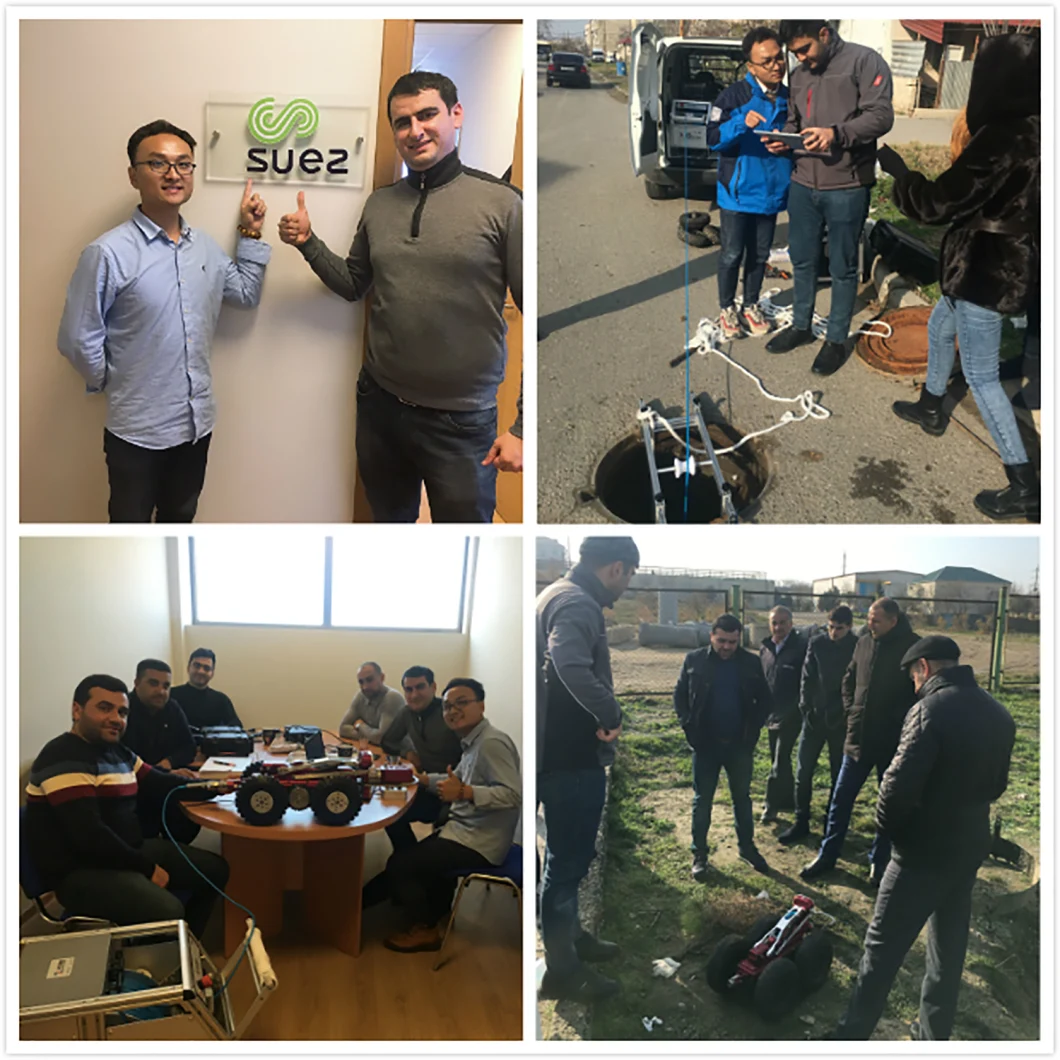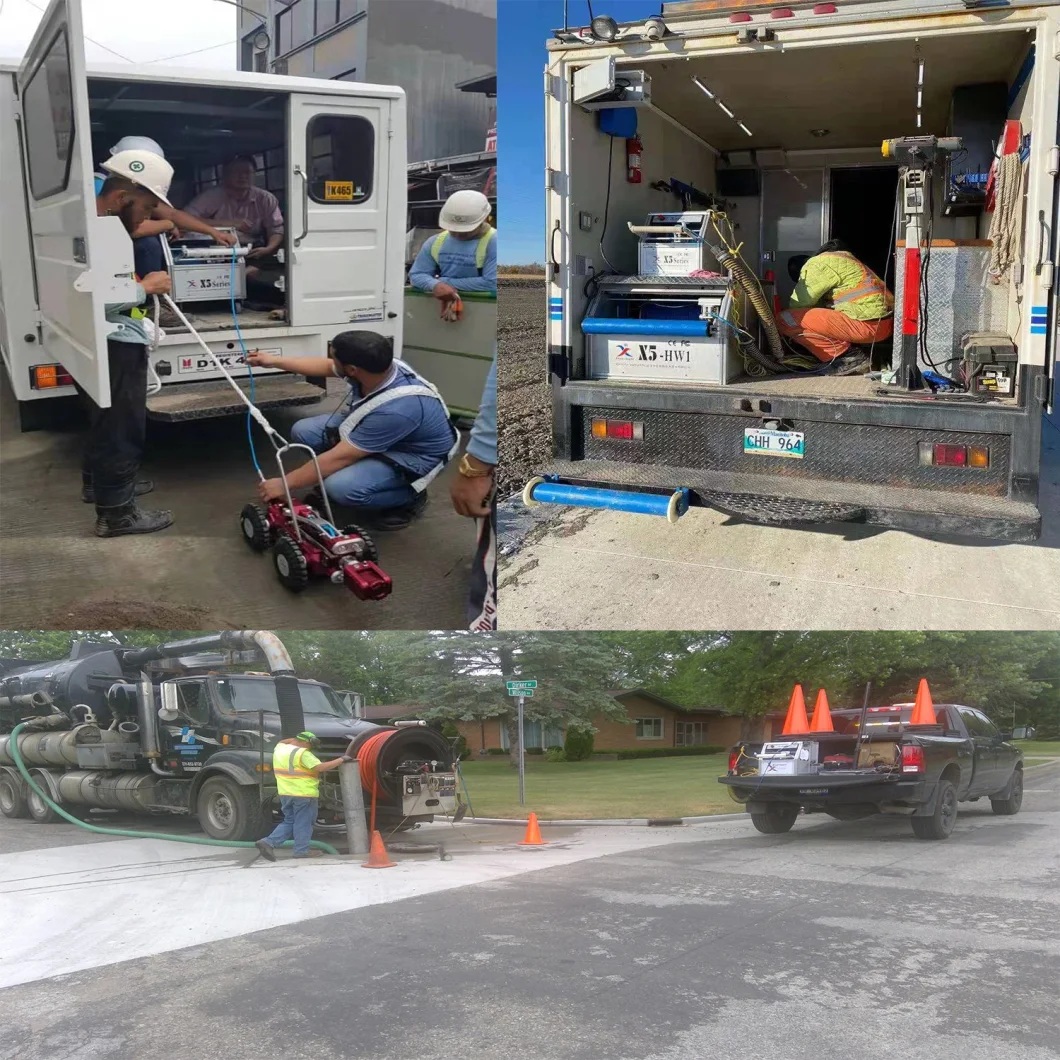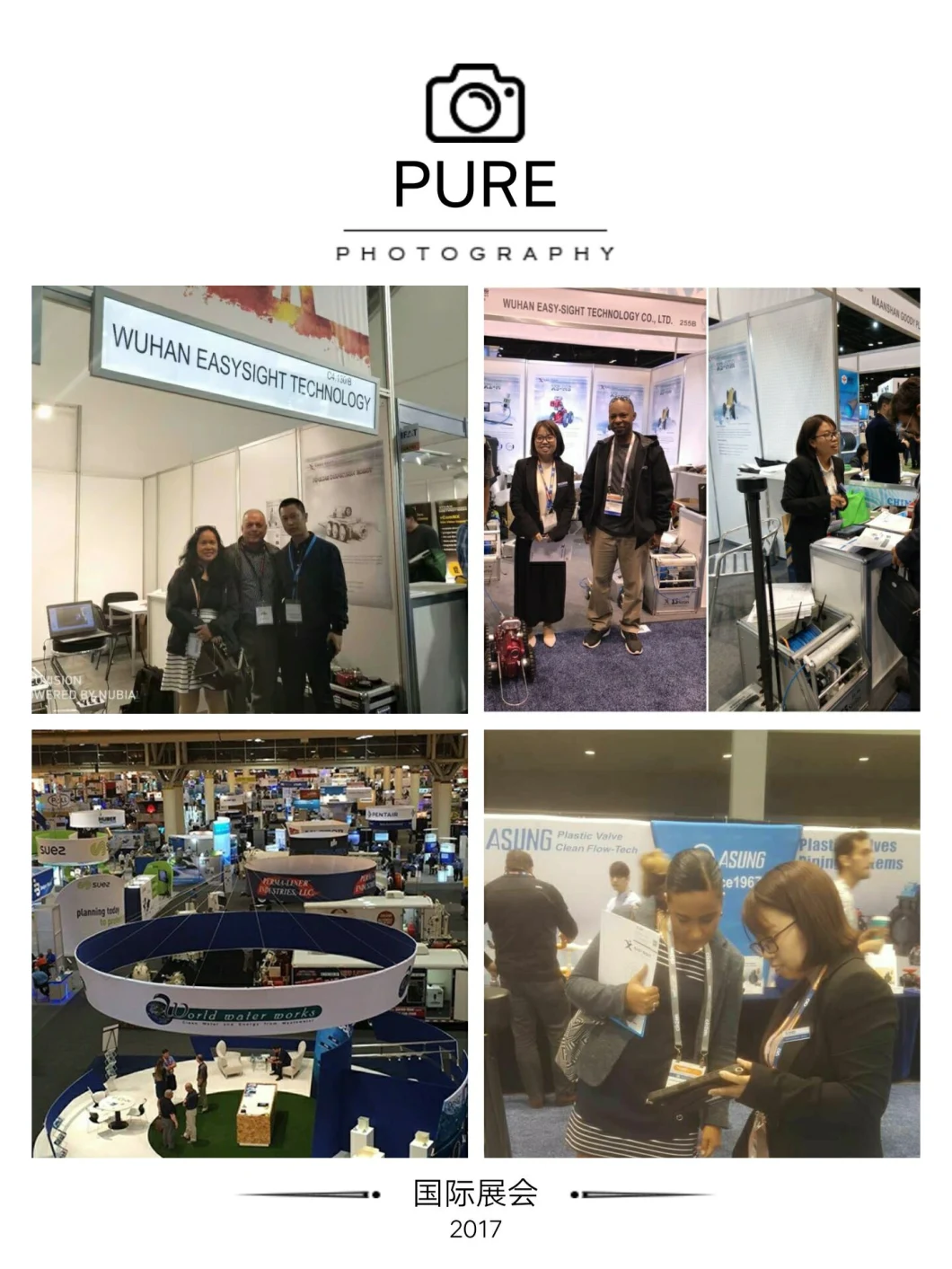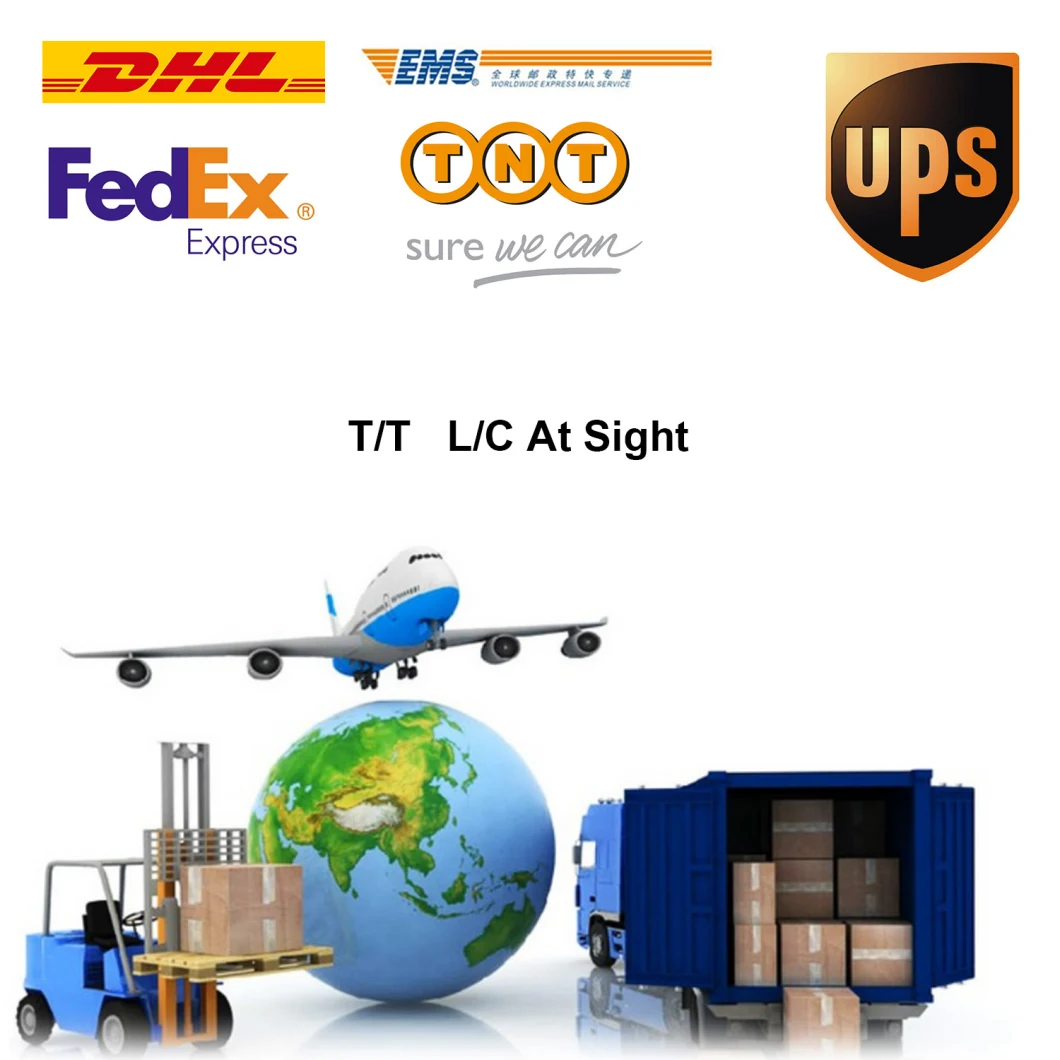 1.After -service:We firmly believe that depending on the abundant strength, advanced equipment, perfect detection method, stable technology and outstanding professionals as well as our good faith and excellent service, we will certainly bring you satisfactory returns.

2.Technical help:Wuhan easy-sight Technology Co., Ltd provides pipeline detection,maintenance, repair and technical services, which focused on providing efficient and environmentally friendly drainage network solutions.
3.Warranty policy: The warranty time is 12 months counting from the date on which the commodity arrives at the port of destination, and maintain is lifelong. During this time, if any work piece dose not work well and which is not caused by worker and can not control naturally, the supplier provide it free of charge, or customers can return it back ,we will maintain it well.
4.Quality: Quality of products will be strictly checked and every machine will be test to ensure it can works well before packaging.
5.Lifelong Services: We provide lifelong services for all the products we sold out, and supply the spare parts with competitive price.

6.Language: We have a professional sales team who are good at English to ensure zero communication barriers.

7.Detailed Operational Manual &Training CD in English Version will be offered. We also provide free training if you worried operation matters, welcome you visit our factory, our professional technicians will teach you how to use the machine in correct way.
8.OEM order is welcomed , and we can print the customer brand logo on the product free of charge.
Q: What's the package?
A: We have standard plywood packing case. For the outside, we adopt wood craft case. In the middle, the machine is covered by foam, to protect the machine from shaking. For the inside layer, the machine is covered by thickening plastic bag for waterproof.
Q: Will the package damaged during transportation?
A: Our package is considerate all the damage factors and make it to be safe, and our shipping agent have full experienced in safe transportation. So please don't worry, you will receive the parcel in good condition.

Q: How to install and run the machine?
A: Our technician have installed the machine before shipping. For some small parts installation, we will send detail training video, user's manual along with the machine. Most customers can learn by themselves.

Q: How can I do if the machine goes wrong?
A: If confronted with such problems, please contact us asap and do not try fix the machine by yourself or someone else. We will response within 24 hours as quick as we can to solve it for you.